Important Information – The Bike Route has changed due to construction
Each participant must complete three laps around the bike course. Stay right in the "Thru Lane" at the completion of the first and second laps. At the completion of the third lap, take the "Finish Lane" on the left to re-enter the transition area.
– WATCH FOR TRAFFIC-
and obey all instructions from traffic control officers and race volunteers. Cyclists must dismount prior to re-entering the transition area.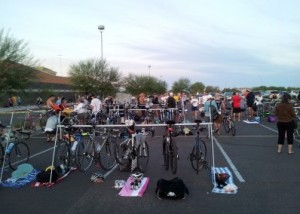 Transition Area:
The transition area will be just outside the aquatics center in the Skyline High School parking lot.